---
---
Internet Sellers Turn-Key Internet Package:
This instructional kit is designed to maximize your profits from the start.
At eBay Live! in Boston I had the pleasure to have lunch with Skip McGrath and Lynn Dralle. This was a lunch to exchange ideas, plans and techniques for teaching others how to be successful selling on eBay.
During that meeting Skip invited me to join him in teaching a North West style Boot Camp to eBay sellers. I immediately said: YES!
Skip McGrath and I live about 50 miles from each other so it was a natural fit. I've always loved Anacortes Washington with it's ferries to the San Juan Islands, whales and beautiful views of the Puget Sound.
Lynn Dralle is also a North Westerner. She now resides in Southern California but she got her start in selling collectibles and antiques in her grandmothers shop in Bellingham Washington. That's about 25 miles from Anacortes. Maybe there's something in the water here in Washington? We have so many amazing eBay sellers and teachers here.
Skip Mcgrath is an outstanding teacher and author of several eBay business books.
He's not one of these guys who just sells books. He & his wife are eBay Power Sellers and sell on eBay every day. Skip's username is McGrrrrr and you can click here to see their auctions and check their feedback.
Here are some of Skips credentials:
eBay Power Seller since 1999

Contributing editor to eBay Radio

Only information seller allowed to exhibit at eBay Live

His books are used in community college adult education classes

Publish the oldest and largest newsletter for professional eBay sellers

Invited to teach eBay consignment selling by eBay

Author of seven books about eBay and web marketing
Skip & his wife were the perfect hosts for this event.
Lynn Dralle AKA The Queen of Auctions
Click here to see Lynn's auctions and check her out.
Lynn Dralle is is the granddaughter of Cheryl Leaf, an antiques dealer and larger-than-life personality who passed away in August 2000 at the age of 88. Lynn literally grew up in the antiques business; she started accompanying her grandmother to antique shows at the age of seven. Her grandmother, Cheryl Leaf, owned Cheryl Leaf Antiques & Gifts for 52 years.

Near the end of her grandmother's life Lynn returned home to run the family antiques store. She eventually began buying and selling on eBay to pay for her grandmother's nursing home expenses. Lynn is third-generation antiques dealer and eBay Power Seller who has sold up to $20,000 a month through online auctions.

Lynn has an undergraduate degree in entrepreneur studies and a master's degree in business administration, both from the University of Southern California.
Lynn has been selling as a full time Power Seller since 1998. An award-winning author who has lectured around the country on how to buy and sell on eBay, she has appeared on national television and is the author of iBuy and iSell, an auction tracking notebook system carried by eBay in their online store. In addition, she writes about eBay for publishing houses like McGraw-Hill and Wiley.
On day two of training Lynn Dralle took everyone out for a round of garage saleing. She showed everyone how to spot deals, negotiate prices and what to avoid in this tour of beautiful Anacortes.
Above is a photo of Lynn teaching students what to look for and what to avoid and how to move on quickly to the next sale.
Back in the classroom Lynn showed us what she found and the best ways to list them for quick sale and high values. I have to tell you I was amazed at the many things she had picked up in this quick tour! I had been watching her closely and taking pictures the whole time, but missed about half of the treasures she had found.
During the two day boot camp I was there to teach profitable photography techniques and how to get the best quality video for your listings. If you haven't met me yet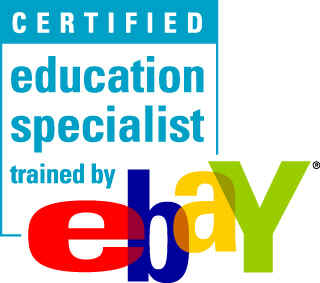 I'm Cindy Shebley, author of Easy Auction Photography & Five Steps To Success, eBay books about Successful Selling on eBay. I'm a eBay Certified Business Consultant and Education Specialist.
I'm also an eBay Certified Store Designer

During the afternoon session we reviewed eBay Stores, talked about best practices and revealed tips the PowerSellers use to bring in more traffic and build profits using eBay Stores.
It was an exciting session where we all, trainer and student learned more about the power of eBay Stores.
This five DVD series is full of information you need to build your business. We walk your through, step-by-step how to maximize your profits and build a solid business on eBay.
During this special session with Skip McGrath, Lynn Dralle, Jen Cano and me, Cindy Shebley we covered the most important aspects of running an online business.
During this two day training session we covered:
Branding your business for success

Discovering your product niche

Selling Strategies

Wholesale Product Sourcing - online & offline

Sourcing used & or surplus & liquidation goods

Automation & listing tools

Listing strategies & techniques

Product & Market research using hammertap

How to take better pictures

How to find garage sale treasures and how to list them

Selling art, antiques, collectibles on eBay

We reviewed eBay stores to make sure they maximize traffic

Increasing conversions and final values with Audio & Video in your auctions

Beyond eBay; Setting up a website, up-selling and cross selling and selling on Amazon and other venues
This Boot Camp was held in Anacortes, just north of Seattle. This intense two day training was caught on video for you to watch. Now, this five DVD set with over 14 hours of valuable content can be yours to watch over and over.

Only a handful of people were allowed into this this intensive training weekend. You can see what they learned for a fraction of the price, at your leisure.
This powerful 5 DVD set will go on sale soon at a price of $397.00. But, if you pre-order your set now the pre-order price is $197.00 plus $4.95 Shipping & Handling
This 5 disk DVD series comes complete with two notebooks to follow along and refer back to. One covers the complete presentations from Skip & Lynn.
The second includes my presentations on eBay Photography AND eBay Video sales.
This includes the notes plus ten steps that to photos that sells. I've also included bonus chapters from the Book Easy Auction Photography.
Plus, as an extra added bonus for purchasing here I'm including two of my best selling books.
Easy Auction Photography:
Easy Auction Photography
A Guide For Everyone Who Sells On The Internet

Full Color Version on CD ~ PLUS Added bonus demonstration videos!

This electronic version is complete and includes 189 pages full of useful information on improving your auction product photography - with over 150 full color photographs.
If you are already selling on the internet, you know how important professional quality photographs are. You understand that they will bring in more sales, time and time again. If you are just starting out, and don't know where to begin - this book is also for you!

Would you like to take pictures that attract buyers' eyes and open their pocketbooks? Photos like these can be taken using just a regular digital camera and props from around the house. In simple to understand language, using lavish illustrations, this book will teach you how to shoot photos like a pro.

Learn from an eBay Power Seller the techniques you need to make your photographs successful - everything from buying a digital camera without spending a fortune to setting up a shoestring home studio with limited space.

Chapters Include:

Chapter 1: In The Camera
Chapter 2: Getting To Know Your Camera
Chapter 3: Other Accessories
Chapter 4: How Many Photographs?
Chapter 5: Setting Up A Shoe String Studio
Chapter 6: Lighting
Chapter 7: Tackling Special Problems - Every Picture Tells A Story
Chapter 8: Romancing The Buyer
Chapter 9: Photographing Glass
Chapter 10: Floating On Air Shots
Chapter 11: Moving Photos From Camera To Computer
Chapter 12: Photo Editing Software
Chapter 13: Using A Scanner
Chapter 14: Conclusion

Included in this book is a special chapter devoted to photographing glass. Glass can be one of the most challenging products there is when it comes to getting a good looking photo. Art glass collectors as well as sellers will benefit from this special section. The author will show you the techniques used by the professionals - without using a professional studio. You'll be amazed at the stunning results you can achieve by knowing a few simple tricks!

Have you ever wondered how the professionals get those 'floating on air" shots? Easy Auction Photography will show you not one, but many techniques to help you create them yourself, using your digital camera.

Photo Editing Software can be a real picture and time saver! But most internet sellers don't take advantage of it. While you should never alter the look of the item to hide defects or to deceive the buyer, you can improve its presentation. Included in this package are video demonstrations on how to:

Crop
Rotate
Improve exposure & color balance
Resize
Remove unwanted backgrounds
Use the clone tool to remove photographer's mistakes
Watermark the image to save it from being "borrowed by others"

Lighting collectibles correctly is very important. Buyers need to see all the details

Easy Auction Photography includes techniques for lighting:

Collectibles
Shoes & Apparel
Jewelry
Furniture
Packaged items
Small and large products and much, much more!

This book is filled with useful hints and techniques. Written in non-technical terms, it is easy to understand. It is filled with practical examples photographed with ordinary digital cameras.

If you want to produce photographic results that will improve your sales, this book is for you!
And, I'm including it for FREE as part of this special introductory package!
Plus Bonus #2
Five Steps To Success
The Online Entrepreneur



ARE YOU READY TO TAKE
THE FIVE SIMPLE STEPS THAT
WILL LEAD YOU TO SUCCESS?

5 Steps to Success will give you the tools you need to run a successful
online business. Real-life lessons drawn from the daily experience of an
eBay PowerSeller will guide you through writing your listings, designing
your store, and keeping your customers coming back for more. Every
information packed chapter is followed by Exercises and Check Lists
that will help cement your understanding. Whether you are an eBay
seller or a "Bricks & Mortar" store owner, a new vendor or a seasoned
online merchant—this book will help you optimize your eBay presence
and maximize your profits.
Did you know that on eBay alone over 1,300 dollars of goods and inventory is sold every second? That's over $78,000 a minute traded worldwide! Currently there are over 200,000,000, two hundred million registered users on eBay. That's larger than the population of all but four countries: China, India, Indonesia and the United States.
When you add in the rest of Internet eCommerce, think of the limitless possibilities!
In Five Steps To Success you'll learn how to master the art of selling on eBay and learn how use the tools available to boost your sales.
What Other's Are Saying:
About 5 Steps To Success
"Cindy Shebley has done an excellent job of creating an eBay seller's dream: A Five Step Plan that will help you succeed and grow your business. In this workbook she gives checklists, sample web pages showing exactly what she is talking about, and boxes throughout the book with little tips in them that you shouldn't miss! I highly recommend this book for newcomers and experienced sellers alike."
~Angela C. Adams
Author, The eBay Success Chronicles
---
What's Covered In 5 Steps To Success:
Step 1: Creating Great Listings
Learn how to write great descriptions, use effective keywords, photograph your item and make the sale.
Step 2: eBay Stores
Learn how and why you want an eBay store. 5 Steps includes a complete step by step guide to setting your store up correctly, including valuable search engine optimization.
Step 3: Product Sourcing
Learn to identify hot products that will sell. Learn where to find sources for products and how to deal with suppliers.
Step 4: Marketing
Learn to drive traffic into your eBay store using SEO, Blogs, Social Networks, Web 2.0, and drive customers to your store from outside the web. Once you drive traffic into your eBay store, eBay will refund 75% of the final value fee on your sales.
Step 5: Customer Service
Even on the Internet, keeping a customer is easier than making a new one! Learn simple techniques to keep your buyers happy and coming back for more.
All of these are yours today for a truly outstanding price.
And I completely guarantee that you will be 100% satisfied. If not return the set & bonuses within 30 days for a full refund!
If you are not happy you may return it for a full refund!
About Cindy Shebley:
I've taught hundreds of entrepreneurs how to sell on eBay and I can help you! Here's what a few of my students say:
"Cindy was very informative and enthusiastic about her experiences with Ebay"

"Great class. Excellent teacher."

"I felt that Cindy is a well informed, interested, and interesting instructor. She made the class fun. I was sorry to see the time come to a close, it was such an enjoyable experience."

"Cindy Shebley is a very knowledgeable and educated in ebay practices. Fun instructor. Highly recommended +++++"


"Very easy to follow and always willing to answer questions. Very knowledgeable. A good class experience."
Use PayPal's secure payment service. You do not need a PayPal account to pay via Credit Card to purchase this five DVD set plus receive your FREE bonuses!
Pre-Order Your Set with Bonuses NOW!
Pre-release price: $197.00 (plus 4.95 shipping). Price goes up to $397.00 soon!
PS: Remember, I fully guarantee this offer. If you are not satisfied with the items you may return them for a FULL REFUND.
Have more questions about this DVD set before you purchase. Feel free to call me on my SKYPE line.
---
---
---
---
---